The LXT team recently attended the Voice Summit in Arlington, VA, meeting with industry leaders in Conversational AI to discuss the impact of the past two years on the industry as well as where the industry is headed. The in-person event was on the smaller side given the state of the pandemic, but that made for a more personal experience and deeper conversations. The event was also attended virtually by hundreds of professionals from the voice community across a wide range of industries. Our team engaged with a variety of organizations at our booth, including companies building NLP-based technologies as well as brands that are using Conversational AI to engage with customers. For both sets of companies, high-quality AI training data is essential to effectively build their data pipelines and scale their AI efforts.
We had the chance to attend some very interesting presentations at the event, including a keynote presented by Diana Mingels, Sr Software Engineering Manager, Conversational AI & NLG at Capital One. Her talk was centered around what it means to be "AI first" as an organization, some of the challenges that can come up in this journey, and trends in Conversational AI adoption. As a key member of the team at Capital One driving the development of the Eno Assistant, she has seen firsthand what it takes to become an AI first company.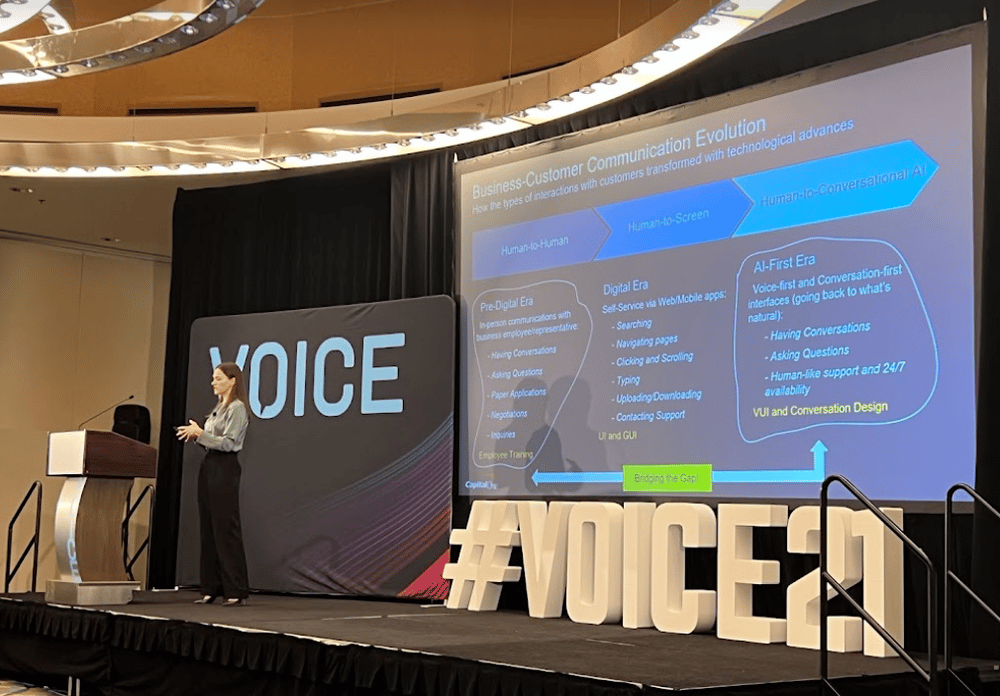 The stats that Diana shared in her presentation reflect strong adoption of Conversational AI experiences. She cited that 1.4 billion people are using chatbots on a regular basis, and that 50% of businesses plan to spend more on chatbots than on mobile apps. Overall, the market for Conversational AI is expected to grow from $4.8 billion in 2020 to $13.9 billion in 2025.
Diana explained that organizations wanting to become AI first must rebuild everything around AI; they need to create a culture of rapid innovation, speed and agility, building strategies around AI capabilities. Organizations need to know what tech exists or will exist to help support becoming AI first. Her view is that voice-enabled experiences will overtake all other means of customer to business interactions, and that Conversational AI will become the new face and image of AI first companies.
During her presentation, Diana shared a roadmap for organizations that strive to deliver an AI first conversational customer experience. She recommends starting with your existing communication channels such as SMS, in-app, social media and live chat, and introducing Conversational AI to all customer support channels. While doing so, it is important to share all customer history and data from these channels to ensure an omni-channel experience. Next, every self-service feature in online and mobile experiences should become voice-enabled with a shift towards a voice user interface (VUI). Then companies that have physical points of presence should scale Conversational AI to those locations, which in Capital One's case include ATMs, branches and retail locations. Finally, in the last phase that Diana calls "Unleashing your AI", she describes adopting a "Conversational-First" mindset for all new products and features, including self-improvement and self-learning.
Diana acknowledged that becoming AI-first is not without its challenges. First, the company must establish an enterprise-wide strategy and budget that spans multiple years. Next, it needs to create an operating model that fosters innovation and collaboration, supported by AI-centric leadership. The third challenge that Diana highlighted is around data – data needs to be sourced, properly labeled and made available to the organization to create successful AI. Next, it's essential to modernize the organization's technology core across tools, platforms and more to provide the foundation for becoming AI first. And finally, automation is critical to the access of a company's AI first transformation.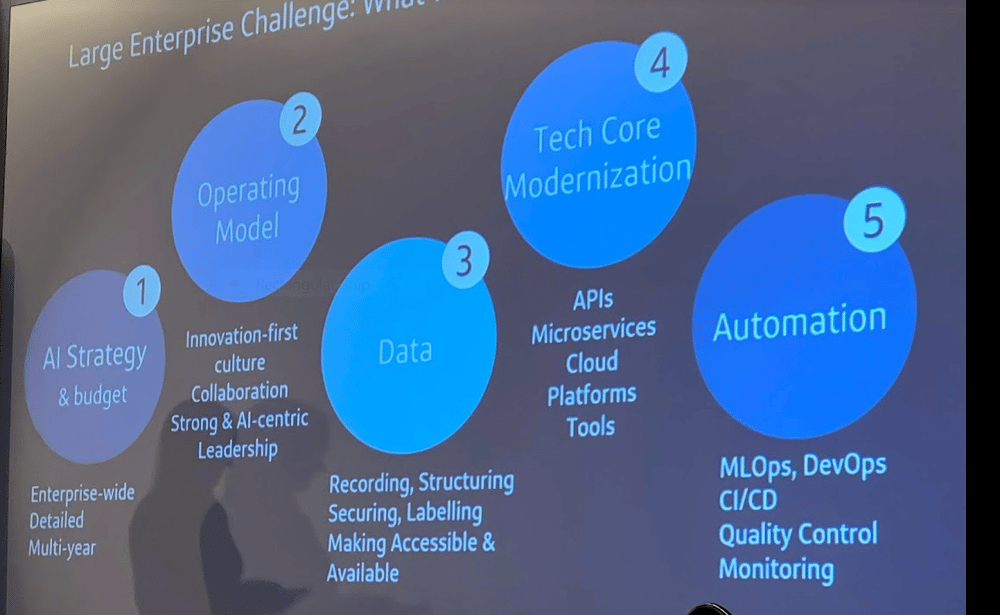 Our team thoroughly enjoyed the conference and the opportunity to interact with so many leaders who are driving the industry forward. Is your organization on track to becoming AI first?
Contact us to learn more about how LXT can support your AI first journey with our high-quality training data for speech and more.