Welcome back to our AI data expert spotlight where I interview LXT teammates about their background and experience in helping companies of all sizes build reliable data pipelines. Today I am sitting down with Ali Gürkan – Senior Project Manager – to learn more about his experience and career in AI.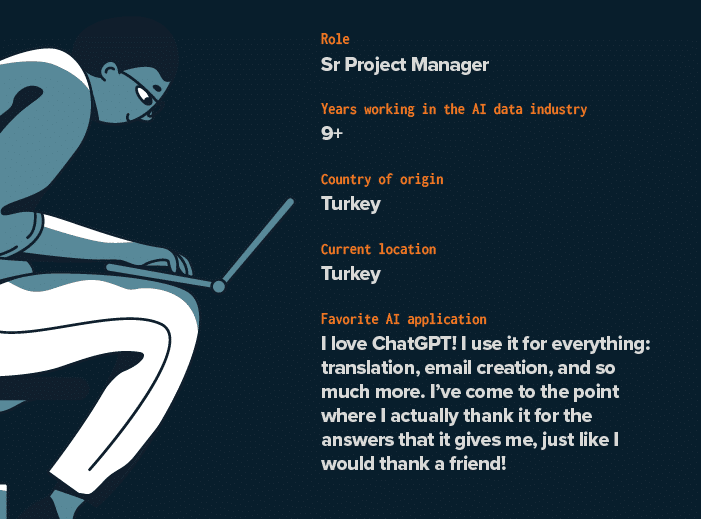 Tell me a bit about your background. How did you end up in the field of AI data?
I started working at LXT in the early stages of the company back in 2014. I was a student at the time and was looking for online job opportunities. I saw a posting for a job from LXT that required a native Turkish speaker, and I actually thought it was a translation job but it turned out to be a transcription job. I didn't have any background in transcription but I managed to do a good job and was eventually promoted to lead LXT's Turkish projects. That meant that I was doing everything from sourcing contributors to quality reviews and data delivery. For the past seven years I've managed a variety of projects and currently work mostly on speech data collection and transcription.
Over the past nine years you've seen quite a range of AI use cases. What is a notable example that comes to mind?
One use case that I remember quite well because it was pretty challenging for us was a transcription project for toddler speech. Our contributors had to transcribe speech data from kids that were two or three years old. You can imagine that it was pretty tough because at that age, a lot of what kids say is gibberish. But we managed to deliver solid data regardless.
What is one of the most challenging AI data projects you've worked on?
There are a couple projects that come to mind. A recent project involved sourcing native speakers in Greenlandic. We didn't have anyone in our crowd who spoke that language so we needed to get creative to find native speakers. We ended up connecting with someone in Greenland to participate in the project and they referred their friends and family, allowing us to source all of the speakers we needed. It was a great breakthrough for us!
Back in 2018 I worked on a prompt disambiguation project that was also quite challenging. We needed participants to review questions and come up with 30 different answers for each question. We had hundreds of locales that we were covering in this project. In one case, we had to source data from an Indonesian tribe that had no understanding of technology. We needed to come up with a creative solution for sourcing data from this tribe. One of our reviewers took the initiative to act as an intermediary, explaining the project to tribe members and how laptops and cell phones work so that the tribe could understand how their answers would be used. I will never forget this project and how we helped our client extend its technology to people around the world, including groups that have never even seen or used it before.
What about your role at LXT do you enjoy the most?
Before joining LXT I had only worked for one company, so I've pretty much built my career here. I've really appreciated the opportunities I've had to expand my level of responsibility as the company has grown. I've helped to create the culture and the processes that have shaped our success so far, and that means a lot to me.
The growth we've experienced has also forced me to grow through learning on the job. I've touched so many aspects of our business, from sourcing our project contributors to budgeting to quality review and data delivery. Now that we've expanded our team, I have the opportunity to focus on the project management piece and connect hundreds of people around the world to meaningful job opportunities. It's very rewarding for me and I'm grateful for the continued opportunity to be a part of LXT.
What advice do you have for companies working in AI when it comes to their data strategy?
My advice is centered around ethics and compliance. I feel strongly that AI needs to be transparent, which to me means that companies need to be able to explain how the data that was used to train it was collected and annotated. Companies also need to be able to explain who has access to the training data within their organizations. When it comes to compliance, companies need to fully understand current regulations such as GDPR and CCPA, and develop processes to ensure compliance. This should not be an afterthought but rather addressed at the start of any AI initiative.
---