Welcome to our AI data expert spotlight where I interview LXT teammates about their background and experience in helping companies of all sizes build reliable data pipelines. Today I am sitting down with Baraa Nabil – Project Manager here at LXT – to learn more about his experiences from linguistics to project management.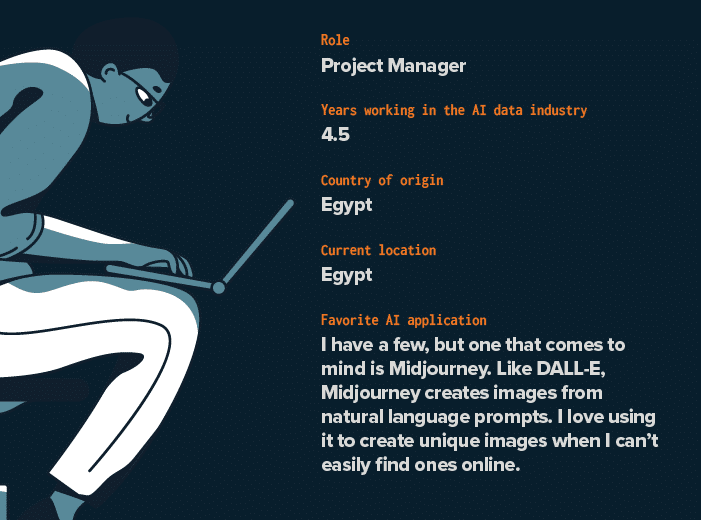 Tell me a bit about your background. How did you end up in the field of AI data?
I studied Linguistics and Translation at University along with American and British Literature. While I really enjoyed these fields of study, in my fourth year I decided that to increase my career options I should expand my studies to include business-oriented subjects. I started a diploma in Supply Chain Management which included Project Management. I really discovered a passion for project management during that time, and after my military service I joined a company here in Egypt to pursue that career path. Not long afterwards I was approached by LXT to join their team. That was in 2018 and I have been here ever since, working as project manager on data collection and annotation projects.
Over the past 4.5 years you've seen quite a range of AI use cases. What is a notable example that comes to mind?
One use case that stands out to me is the SUPERB project. The SUPERB team wanted benchmarking data that could recognize emotions. We developed a speech data collection project whereby contributors had to record one set of utterances normally and then one with specific emotions. My role included everything from sourcing the project contributors to processing the data, to reviewing the quality of the data, and I had to make sure that the contributors were following the project requirements which were very specific. I learned a lot in this process and was so happy when I heard that the SUPERB team was very happy with the datasets we created for them.
What are some of the challenges in your role and how do you manage them?
The nature of this job requires me to work across multiple cultures and time zones, as well as manage changes that may come up during the course of the project. One approach I've used is to spend time with my peers to learn their best practices and then implement them in my day-to-day work. In my role I've had responsibility for sourcing contributors, onboarding them and ensuring they complete the required tasks according to the guidelines. This whole process can be very time consuming, but I've made it a priority to automate as much of my work as possible. For example, during one project there was a time-sensitive task where naming conventions needed to be changed for five thousand files in 24 hours. Normally that would have taken three days, but, by developing a script, I managed to complete this task in three hours. That was a game changer and I continue to look for more ways to implement automation across everything I do.
What about your role at LXT do you enjoy the most?
There is so much that I love about LXT and my role here. I've found many mentors and have learned a lot from them including how to work with individuals across a wide range of cultures, which can be quite challenging. I've learned something different from each of my colleagues and have integrated these best practices into my role.
One area that was really exciting for me was working on a User Acceptance Testing project with our product team in support of LXT's data platform, LDP. I managed a group of contributors using the platform and gathered their feedback into a report with a list of enhancements based on contributor usage and feedback.
I take a lot of pride in the work I do and it means a lot to get good feedback on my performance. SUPERB was my first project and our COO personally praised my work, which meant a lot to me. Another project I worked on was for our client Dubber where I managed the delivery data in ten languages ahead of time and with high quality. Getting great feedback from happy customers is really rewarding.
Overall, I feel like LXT is my home. I've started really building my career here and I love the opportunities I've had to learn and grow.
What advice do you have for companies in today's environment?
I think that companies should prioritize investing in their employees. This can be done in a variety of ways, including everything from making sure everyone is aligned on the strategy, to developing employee skill sets to regular employee recognition. By investing in its employees, companies can encourage them to do their best work which ultimately leads to growth. This is what I've experienced at LXT and I feel grateful for that!
---