Welcome back to our AI data expert spotlight where I interview LXT teammates about their background and experience in helping companies of all sizes build reliable data pipelines. Today I am sitting down with Mohamed Emam – Program Manager – to learn more about his experience and career in AI.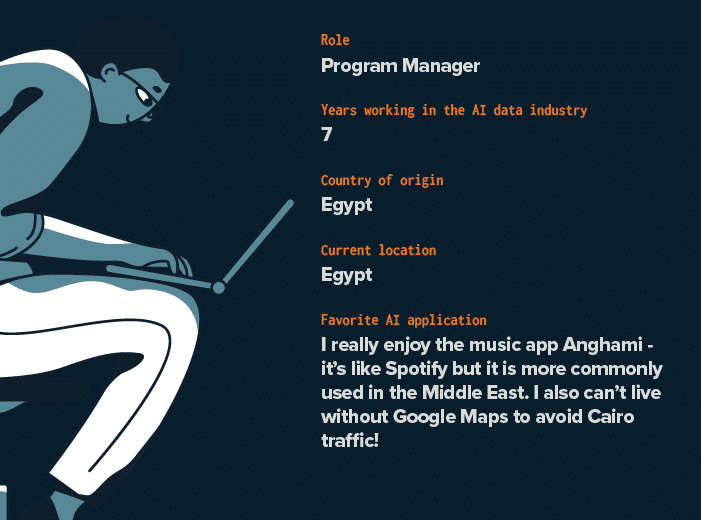 Tell me a bit about your background. How did you end up in the field of AI data?
I was working in tech before I joined LXT, and in 2016 I was approached by Yassin Omar, LXT's COO, to work as a project coordinator. I knew Yassin and his brother Mohammad Omar as we've been friends for some time. I started with LXT as a freelancer, and after a few months I was asked to join the company full time. We started working on more and more projects in many new languages and locales, and things just continued to grow. Since joining LXT I've had the opportunity to work on many different projects including data collection for speech, image and video data, speech transcription, and image and text annotation.
Since joining LXT almost seven years you've seen quite a range of AI use cases. What is a notable example that comes to mind?
One project that stands out to me is the one where we worked on emoji transcription. This was a completely new project type for LXT and we needed to find very creative freelancers who could describe a variety of emojis so that our client could develop its keyboard capabilities to provide users with emoji suggestions. We did this in 60 languages, which was a massive undertaking, and we succeeded in delivering the data to the client in four months. This was a cutting-edge project at the time, and it was really interesting to be a part of it.
What is one of the most challenging AI data projects you've worked on?
I worked on another keyboard project where the client wanted to expand into 60 language locales. The size and scope of the project was massive, and we had to come up with creative solutions to get data from all of the target language locales. We also had to review the data to make sure it was complete before sending it to the client. In some cases, we discovered gaps when we received the data back from our freelancers, but we always made sure that the data delivered to the client was complete, even if it required long nights to make the deadline. As a result, the project expanded to a total of 120 language locales, including some low resource languages.
What do you enjoy most about your role at LXT?
What I love most is that this industry is so dynamic. Every day is different which keeps it really exciting. I feel like I am constantly learning new things; we encounter new scenarios or challenges during projects and I enjoy problem solving. The overall atmosphere and nature of my role pushes me to improve and fuels continuous learning. I also love seeing how much we've grown as a company. We've really evolved since I joined back in 2016 and my role has evolved as well. I started as a project coordinator and over the years have been promoted to a program manager role where I manage eight project managers and 20 coordinators. During this time I also wore multiple hats which gave me exposure to many sides of the business. I was involved in IT and accounting, and even took on a brief country manager role in Egypt to help bridge a leadership gap. I can't wait to see what comes next!
What advice do you have for companies in today's environment?
"When people are financially invested, they want a return. When people are emotionally invested, they want to contribute." by Simon Sinek.
I strongly believe in creating a supportive work culture to promote employee well-being, which can be achieved by creating a positive and encouraging work environment. Companies should foster a culture that values employee well-being, recognizes employee achievements, and supports employee growth and development. Flexible work arrangements can help employees better manage their work-life balance and reduce stress. Companies should consider offering flexible work hours, remote work options, and other accommodations to support employee well-being. And that's what I really love about LXT, and what I'm focused on now with the champions that I'm working with.
---