Welcome back to our AI data expert spotlight where I interview LXT teammates about their background and experience in helping companies of all sizes build reliable data pipelines. Today I am sitting down with Carolyn Harvey – Vice President of Operations – to learn more about her experience and career in AI.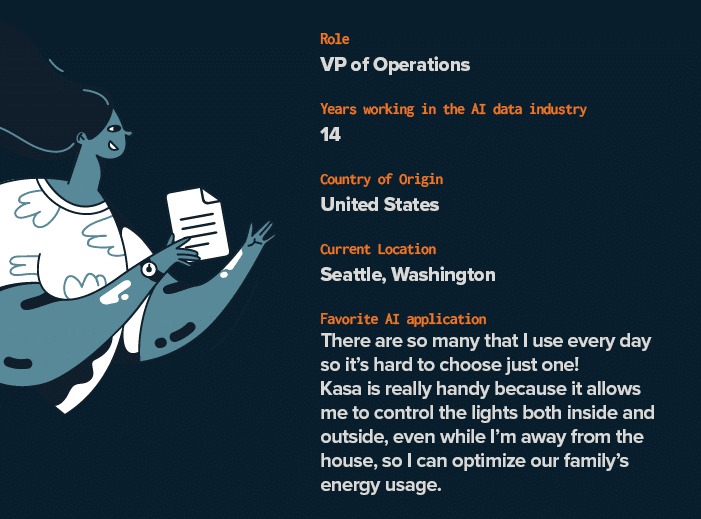 Tell me a bit about your background. How did you end up in the field of AI data?
I started my career working in call centers. I worked for Bank of America for 13 years, taking on increasing levels of responsibility and eventually moving into a leadership role as the AVP of Workforce Management. I was managing multiple call centers in various locations. After Bank of America, I spent a year at Expedia managing remote call centers around the globe. These experiences helped me hone my skills in efficient remote workforce management and large-scale operations. When a friend mentioned a role at Butler Hill managing a key project for Microsoft's transition from MSN Live to Bing, I jumped at the opportunity. This was an exciting initiative in the tech world, and I wanted to be a part of it.
Over the past 14 years you've seen quite a range of AI use cases. What is a notable example that comes to mind?
I've worked on a lot of interesting projects over the years. One that stands out is a project that was highly confidential where we recruited contributors in different cities to test the pre-release of a maps application on a smartphone. Contributors were given secure devices without branding so that the company name could be kept confidential. They were instructed to follow routes that were preloaded on the map and to use various modes of transportation: walking, biking, driving or taking public transport. As they followed their routes, they validated street names, landmarks, construction and anything else that was relevant to the route. It was exciting to be part of a project for an application that would become ubiquitous, before it launched to the broader public.
What is one of the most challenging AI data projects you've worked on?
A project that I recall being particularly challenging is one that I managed for a social media client. The client wanted to improve the personalization of its social media feeds and had very specific demographic requirements for project contributors. It wanted contributors to be evenly distributed across various demographics including age, gender, education level and more, which presented a recruiting challenge for our team. In addition, social media is very subjective, and determining quality metrics for this ranking task was a challenge. We ended up establishing a metric around the consistency of results rankings which we then presented to the client for feedback. The client responded favorably to this quality metric which we used throughout the project to evaluate contributor ranking of social media information. Overall it was a very successful project and I was happy to have played a role in that success.
You joined LXT just a couple of months ago. What were some of the key factors that led to your decision?
LXT is in a really exciting growth phase which has a lot of appeal. I have experience building and growing organizations, and I am excited to be a part of that again. It's a unique opportunity that I really enjoy; implementing frameworks, processes and helping to come up with new solutions for clients. The AI data market has changed a lot in the past five years and companies in our space need to stay agile to be able to meet customer needs. I'm excited to bring my experience to a new organization to help it adapt to this evolving environment. Further, as LXT is known for solutions such as transcription that are more focused on speech data, joining LXT is giving me an opportunity to gain new experience, given that my background is heavier in search relevance programs.
What are your initial impressions of LXT?
Joining the team has been fun and it's been exciting to see how passionate everyone is to learn from their peers. Everyone I've met at LXT has a growth mindset, which is a strong asset for us as we look forward to continued expansion. I've also witnessed a lot of creative solutioning for clients, which is critical given the current economic climate. Companies like LXT need to be agile to help clients navigate challenging environments such as this.
Overall there is a major appetite for out of the box thinking at LXT. Creative methods are used to help meet customer needs, and I love having a strong team that I can collaborate with to come up with innovative solutions.
Finally, LXT's culture has some key strengths that make it a great place to work. There is a culture of working smart and taking accountability to make sure we do the right thing for the client and for the company. We also take the time to celebrate successes and recognize individuals for their hard work, as well as share lessons learned in the spirit of continuous improvement. It's an incredible team to work with.
What advice do you have for companies working in AI when it comes to their data strategy?
What immediately comes to mind is to prioritize a plan for addressing potential data bias. Companies need to do the work up front to combat this. Data bias can be tackled by thoughtful task design, appropriate guidelines, diversifying the contributors who collect and annotate the data, and ensuring that data sources are transparent. Organizations are getting better at this, but there is still work to be done here and it's critical for building responsible AI.
---